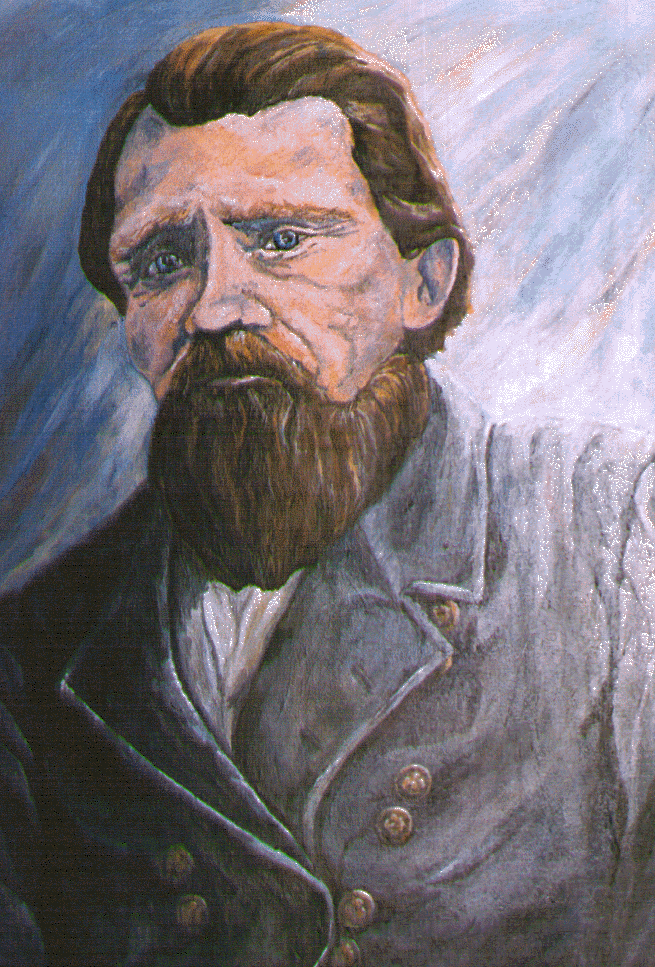 WILLIAM RILEY PAYNE

William Riley Payne was born in 1834 near Sweetwater, Monroe County, Tennessee. He enlisted in Murphy, North Carolina on 22 October 1861 in Coleman's Battalion/39th North Carolina Infantry - "The North Carolina Tar Heels" as a private into C Company. The company mustered in at Camp Hill, near Asheville, North Carolina November of 1861. He transfered to G Company, 39th North Carolina Infantry 19 May 1862 where he was elected 1st Lieutenant 9 August 1863 He was promoted to captain circa June 1864.

William Riley Payne fought in the following battles and campaigns:
| | |
| --- | --- |
| Cumberland Gap Campaign | Jan - Sep 1862 |
| Kentucky Campaign | Sep - Oct 1862 |
| Murfreesboro | 31 Dec 62 - 3 Jan 63 |
| Battle of Jackson | May - Jul 1863 |
| Chickamauga | 19 & 20 Sep 1863 |
| Resaca | 14 & 15 May 1864 |
| 1st New Hope Church | 25 & 26 May 1864 |
| Lattimer's Mill | 27 May 1864 |
| 2nd New Hope Church | 28 May - 4 Jun 1864 |
| Kennesaw Mountain | 27 Jun 1864 |
| Battle of Atlanta | 22 Jul 1864 |
| Ezra Church | 28 Jul 1864 |
| Allatoona Pass | 5 Oct 1864 |
| Battle of Franklin | 30 Nov 1864 |
| Battle of Nashville | 15 & 16 Dec 1864 |
| Battle of Mobile | 17 Mar - 12 Apr 1865 |
| Fort Blakely | 1 - 8 April 1865 |
| Spanish Fort Siege | 2 - 8 April 1865 |
In the spirit of his grandfather and father who fought in the American Revolution and the War of 1812 before him, William Riley Payne felt compelled to join the fight for Southern Independence when the threat to his home and family became evident. On 22 October 1861, the twenty-six-year-old farmer and family man walked the ten miles from his home near Suit to Murphy, North Carolina and enlisted with C Company of Coleman's Battalion.

In the beginning, all expected the war to end quickly and decisively. Payne was no different from the rest. He said farewell to his wife and three small children for what he believed would be the duration of no more than a year and set off for training camp within a day or two of his enlistment. He reached Camp Hill, near Asheville, North Carolina in early November and spent the next few weeks moving between camps, awaiting supplies and drilling with the rest of the fresh recruits.

Coleman's Battalion received its first assignment in early February of 1862 and moved into the Cumberland Gap region under division commander Carter L. Stevenson. By 19 May, the unit had swelled with recruits to the point where it reorganized into a full regiment with 10 companies. Men were reassigned to ease overcrowding and Payne was transferred into the newly formed G Company. From this point on, his former battalion was known as the 39th North Carolina Infantry Regiment.

General Bragg began his Kentucky Campaign in September of 1862 and as the bulk of the Army of Tennessee bypassed them to the east and advanced on northward, the 9000 troops of Stevenson's Division, including the 39th North Carolina were left behind to defend the Cumberland Gap. It was here that Private Payne received his "baptism of fire." The 39th's efforts along with the two other regiments of Rains' Brigade and one company of Cherokee Indians from Thomas' Legion were instrumental in forcing Morgan to evacuate the area fearing the loss of their scalps! As Morgan fled, orders halted the brigade while in the midst of hot pursuit and sent it to rejoin their corps commander, E. Kirby Smith near Frankfort, Kentucky. Once there, Payne narrowly missed the Battle of Perryville as his regiment awaited orders along with the entire inactive corps nearby in Harrodsburg. Although Payne and the others could hear and smell the sound of conflict while positioned near a weak and unprotected enemy left wing throughout the day, they were never moved into the line of skirmish nor allowed to fire a single shot.

Payne soon got his next chance, for the regiment closed 1862 and began 1863 with the Battle of Murfreesboro (the Battle of Stone's River to the Yankees). Here, the 39th fought so tenaciously as an independent command that fellow regiments nicknamed it "The North Carolina Tar Heels." In recognition of their capture of enemy artillery, Bragg also gave permission to imprint inverted cannon on their battle flag for the first time. On 9 August Payne was elected 1st Lieutenant of G Company and finished out 1863 with the Battles of Jackson and Chickamaugua Creek. With a second and even more dramatic capture of Thomas' battery at the top of Snodgrass Hill, the regiment received permission to imprint inverted cannon on its battle flag again while under the command of Longstreet.

In early May of 1864, Pascal C. Hughes was promoted to major and Payne replaced him as Captain of G Company. From that point though early October of 1864, Payne's regiment was part of the 42,000 strong Army of Tennessee defending northern Georgia against Sherman's fiery advance with troops three to four times their number. With these overwhelming odds the outcome was inevitable and Payne's regiment was at the rear of Stuart's Corps and the last to leave Atlanta when it fell on 1 September. Now under the command of the impetuous John Bell Hood, what remained of 1864 was devastating to the Army of Tennessee. First the horrendous losses including 6 generals at the Battle of Franklin in late November, then the army was all but destroyed at Nashville by mid December. What remained of the once 1,000 strong 39th North Carolina, then moved into the Mobile Bay area under the command of General Richard Taylor for the last months of the war.

Captain Payne and his fellow members of the 39th made their last heroic stands at Mobile and Fort Blakely in early 1865. Over 17 percent of the men and the proudly displayed battle flag of the 39th North Carolina Infantry were then captured at Spanish Fort, near Mobile on 8 April. Less than a month later, Taylor surrendered the Trans-Mississippi Department, including Payne's regiment at Citronelle, Alabama 4 May 1865.

After the war Captain Payne moved to Kentucky in 1866, then to Arkansas by 1872. He moved to Hunt County, Texas in 1880, then to Jack County, Texas by 1882. He died in Vineyard City (now Wizard Wells) in June of 1892 and is buried in nearby Bridgeport, Wise County, Texas.

God Save the Southern Confederacy!!!